Passing the torch: Mothers inspire daughters in nursing careers
Debra Melani | College of Nursing
Aug 26, 2019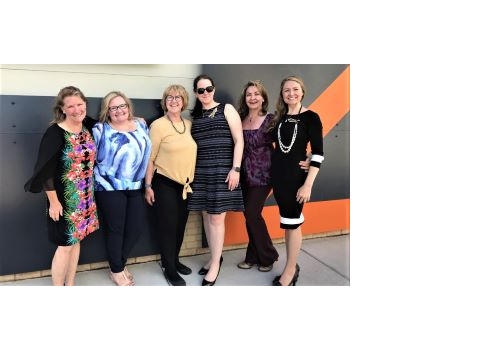 Growing up with two heroes — a firefighter dad and a nurse mom — Lindsey Tarasenko knew early on that she wanted a job focused on giving back.
For Martha Grubaugh, there were some early signs, including being the go-to girl in the neighborhood when the area kids got hurt.
Kara Snyder, on the other hand, denied her destiny for as long as possible. Watching her single mom work hard as a nurse while raising her, Snyder vowed early on that she would never join the profession.
Turns out, it was in her blood.
All three women have nurses for moms, something they realized after forming a bond during their doctoral programs. The trio received their PhD's together this spring from the University of Colorado College of Nursing.
'We have so much in common at our core'

"I am completely inspired by Lindsey and Martha," said Snyder, perioperative services director of nursing at Banner University Medical Center in hometown Tucson, Arizona. "They have the hearts of nurses. "I think that's why we forged such a deep connection during our doctoral program. We have so much in common at our core."
All raised by caring, successful nurses, the trio's mothers became built-in mentors, colleagues and friends, they said.
"We have a lot to talk about," Tarasenko said of her and her mother, KimRenee Breen. Tarasenko remembers touring her mother's hospital with her Girl Scout troop as a kid and being inspired by a preceptor experience her mom set up for her the year before she enrolled in nursing school.
"It had a lot of continuity of care," Tarasenko said of the clinic where her mother worked at the time. "So the nurses practiced to their full scope, and they were able to practice different roles in one clinic," she said of the Lovelace Medical Center clinic in her hometown of Albuquerque, New Mexico.
It was that diversity — the realization of the vast opportunities a nursing degree offered — that hooked her, said Tarasenko, now magnet program director for Children's Hospital Colorado.
'My mother is an incredible mentor'

Once they all made the nursing leap, the three women found they had a slight advantage in school: Mom.
"My nursing school was on the same campus as the hospital where she worked," Snyder said of her mom, Patti Stumbo. "I would come over at lunch time and go over everything I was learning, and she would talk to me about how it looked in practice. My mother is an incredible mentor."
Grubaugh's mother, Sandra Merkel, said her daughter called often during college, especially when she was excited about something or in need of some emotional or professional support.
"I remember when you called home and said you had discovered patients would tell you more things when you sat down," said Merkel, who still lives in Grubaugh's hometown of Chelsea, Michigan (of Jiffy Mix fame). "Or when you called and said: Mom! I finally got this nursing theory thing!"
Her mother could always relate, especially when they (both pediatric focused) worked in the same hospital for a while, said Grubaugh, vice president and associate chief nursing officer of critical care services at Children's Hospital Colorado.
"If you had a bad day, or if you struggled with something, she had that context. She had the understanding to be able to kind of just debrief," Grubaugh said. "Yes, I have colleagues, but there is an inherent wisdom that comes from someone who's been a nurse for that long."
Earlier in her career, Grubaugh's mother worked with colleagues in creating the FLACC pain scale, a widely used pain assessment for pediatric and non-communicative patients.
'It keeps you grounded'

Tarasenko said that talks with her mom, who still works in clinical practice, have really helped, especially since she turned toward research and leadership roles.
"It keeps me grounded," she said of hearing her mother recount work stories. "You have to stay connected to the bedside and keep that at the forefront of your mind," said Tarasenko, whose research focuses on reducing stress of the hospital environment for nurses.
"Having that connection and still being able to talk to my mom makes me realize that we have a long way to go, but we're moving in the right direction."
'I can't imagine doing anything else'

The moms said they never pushed nursing on their girls, but that they all saw the foundation for being a good caregiver in their daughters.
"Kara is very social. She cares about people," Stumbo said. "She is a great listener and offers great advice, and she's very sincere. All of those attributes really are well-suited for nursing."
"The thing I always noticed about Martha is that she is very intuitive, she cares about people's feelings," Merkel said.
All six women agreed: Just as their profession is special, their mother-daughter relationships are special.
"I guess we get to share so much, and we understand each other so well," Stumbo said. "It's a profession that is, unless you live and do it, not entirely well understood," she said. "I can't imagine doing anything else."
Categories:
College of Nursing

|