Summer internship teaches Pine Ridge students, broadens CU Nursing's reach
Faculty members mentored high school students focused on health sciences this summer.
Debra Melani | College of Nursing
Sep 9, 2019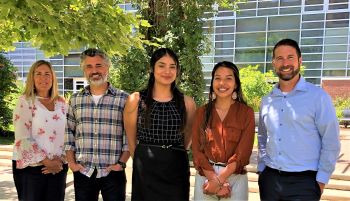 This summer, while two Lakota native high school women scoured research papers and roamed the lands of their Pine Ridge Reservation, two University of Colorado College of Nursing faculty members guided them from their offices on the Anschutz Medical Campus more than 350 miles away.
With Zoom sessions bridging the gap between the Aurora campus and the reservation in the rolling hills of South Dakota, the CU mentors helped as the high school students uncovered and analyzed environmental and other health issues affecting the nation's poorest county.
The young women hope their experience gives them a boost for college and a career in the health sciences. The CU instructors hope this first-time partnership continues for years to come.
Building relationships, making a difference
"We have been gifted, I feel like, with the opportunity to work on the reservation," said Pamela Prag, MS, MPH, CNM, CU Nursing's director of Global Health/Health Disparities Programming.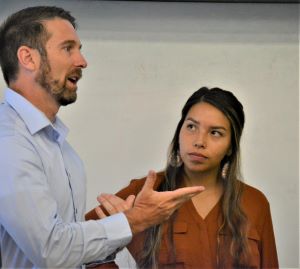 "We are interested in relationship development, and this works with what we really hope to be doing up there over the long term," Prag said, while introducing the two women before they gave a final presentation on campus. "These guys are our groundbreakers."
Funded by the Missouri Breaks Institute, which promotes research for improving quality of life in the area, the youth-driven project involved attending meetings, interviewing researchers, educating their native people, writing a white paper and doing final presentations.
Chosen from an interview pool of about a dozen students, Kylie Jo Red Willow and Ohiyesa Ramirez worked with CU Nursing's Scott Harpin, PhD, MPH, RN, specialty director of the DNP/MPH dual degree program, and Matt Grespin, MS, ScM, RN, adjunct faculty instructor.
"Matt and I were motivated to develop this partnership solely to inspire these young people," Harpin said. "It was so great to watch them grow and develop their scientific skills during the 12 weeks we worked together."
Women focus on educating, motivating community

Although the students' environmental health findings were grim, the pair hope they will make a difference.
"We have been attending some Environmental Protection Agency meetings, and we've been gathering information about creeks on the reservation," Red Willow said. "We have found that most, if not all, are contaminated with arsenic, and that can lead to heart disease and many other health problems.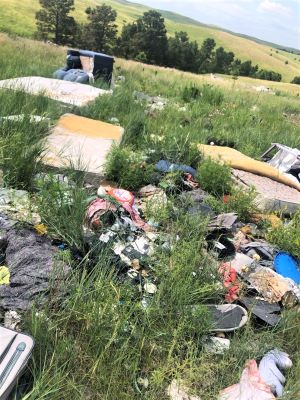 Most people on the reservation lack access to filtered water, tap or bottled, she said. Making matters worse: Sewage pipeline issues have allowed seepage into the reservation's water supplies.
"The population has significantly grown, and our people have become dependent on plastics and Styrofoam," Ramirez said. Unfortunately, knowledge of proper disposal lags, she said.
"We have also visited some illegal dumpsites," Red Willow said. "This trash will spread for miles and miles, affecting water and wildlife," she said, showing slides of the massive trash sites defacing the tree-lined hills.
On the positive side, there is hope of a landfill cleanup project in 2020, Red Willow said.
Meanwhile, education is key, with messages such as avoid using plastic ware, recycle, switch to biodegradable products and use reusable shopping bags, Ramirez said. She and Red Willow both plan on continuing their educational and cleanup efforts with their peers and high schools.
Side research projects uncover grim statistics

In individual side projects, the students learned that poverty, seclusion, harsh weather, substance abuse and lack of health care compounded health problems on the reservation.
"Our teenage suicide rates are 150 percent higher than the national average," Red Willow said, citing The New York Times. "In the months from March to December 2015, over 100 suicide attempts were made. And what's really bizarre is that we only have six mental health professionals on the reservation to service more than 40,000 people. It's very alarming."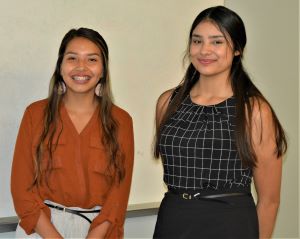 A lack of health care facilities also affects residents physical health, with the nearest hospital five hours away, Ramirez said.

Students plan to return equipped to help
"Over the years, I've watched my relatives come and go because of diseases they had which could have been taken care of if there were resources," she said. "My dream starting as a little girl was always to become a cardio-thoracic surgeon and come back to the reservation and help my people."
Red Willow, too, wants to return to help clean up the reservation with an environmental engineering education. Among her dream colleges: the University of Colorado.
"We named our project 'Project Unci Makha,' " Red Willow said. "That means 'love the Earth' in Lakota. As indigenous people, it is our job to protect the Earth for as long as we can."
Categories:
College of Nursing

|