School nurse Marnie McKercher pursues her dream while expanding her role
Dreams achieved and growing.
Dana Brandorff | College of Nursing
Sep 10, 2019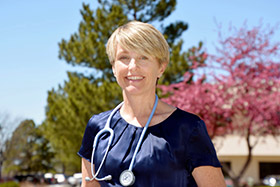 Aurora Public Schools' Lead School Nurse Consultant Marnie McKercher (aka Margaret McKercher) graduated in May 2018 with a Doctor of Nursing Practice and a master's in Public Health from CU. As a nurse in one of the most diverse school districts in Colorado, McKercher wanted to enhance her role while forwarding the mission of improving student health.
"I wanted to focus on the nurse role in advancing the health of the whole community – with a highlight on removing health barriers for school-aged children," McKercher said.
Unlike many who pursue an advanced degree, McKercher was not looking to change careers or achieve a promotion. She was seeking a more expansive role for herself in her current position.
"I had the job I wanted. I pursued a public health degree to forward the mission of public health and help children be healthy and ready to learn. I've grown into exactly what I wanted to be, and the education I received helped me do that."
Why the DNP/MPH program?
"I always wanted a graduate degree, but I was unsure if I wanted a single pathway in nursing," said McKercher. Eventually, she decided that CU's dual degree was the perfect program to expand her nursing education while also collaborating with other public health professionals through the MPH.
"Agencies are being tasked to consider the health of their community when developing services and resources," said McKercher. "The dual degree credentialing opens professional opportunities for nurses to lead these programs and provide the expertise in policy development, program evaluation and quality improvement across clinical, public health and government institutions."
For example, with Children's Hospital Colorado within Aurora Public School (APS) district's boundaries, APS can take the lead in coordinating and improving health care for APS students. "Then schools in rural areas, which have fewer resources, can feed on our successes and expand their programs," McKercher said.
The role of the school nurse has also intensified along with the today's complex medical environment, McKercher said. "We've moved well beyond treating colds and preventing injuries to caring for children with chronic and complex medical conditions, including drug use and behavioral health issues."
School nurses like McKercher spend a significant amount of time coordinating student care between providers, parents, students and school staff. This becomes more complicated when language, knowledge and cultural differences become factors in reaching optimal health.
"There's a tremendous need for school nurses across Colorado," McKercher said. According to the U.S. Bureau of Labor-Statistics, job growth for school nurses will reach 19% by 2022.
Why is credentialing important to a school nurse?
"The dual degree prepares the registered nurse to lead organizations with a broad perspective on population health that crosses all nursing disciplines and focuses on whole communities," she said.
In the education world, no matter how exceptional your abilities, colleagues may see you only through your credentials. "You may have a ton of knowledge and experiences, but if you're lacking in credentialing that will affect your ability to advance," said McKercher.
For McKercher, achieving her DNP/MPH was "an awesome, challenging experience."
Categories:
College of Nursing

|