Center for Nurse-Midwifery – Longmont Celebrates their 100th birth!
Trisha Buck | College of Nursing
Nov 27, 2018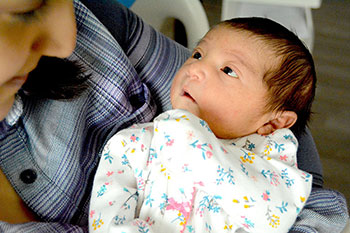 Congratulations Erika Gutierrez and Daniel Gonzalez on your beautiful baby girl, Leah. Leah was the 100th birth at the Center for Nurse-Midwifery - Longmont. Sharon Shin, Erika's certified nurse-midwife (CNM), was honored to comfort and support Erika through this miraculous 30-hour labor! The birth wishes were in place but plans changed when Erika needed a C-section.
"Midwife means to be with a woman, and that's what I did during Erika's birth. I provided emotional and physical support, while ensuring both mother and baby were safe," Sharon said.
Even though the birth plan changed, the core philosophy of nurse-midwifery is to create a partnership and provide information to the family. Erika stated, "I am grateful they were patient with me, treating me like a mother, not a patient—allowing me to make my own choices."
Daniel Gonzalez, Erika's husband also felt the unique energy of the midwifery experience. "The delivery was a journey. After 30-hours of labor I was exhausted, however, the nurse-midwives managed everything, allowing me to just be there for my wife."
Sharon was thrilled to provide care to the 100th birth at Center for Midwifery - Longmont. Living by the rules of midwifery, the goal is to support the family in achieving the birth experience they are envisioning.
The ongoing support helped Erika feel ready and confident to be a new mother. Erika feels reassured that her support from the midwives will continue even after giving birth. Erika stated, "I still don't know how to do this, but with the support from the nurse-midwives, I know I can do this."
Categories:
Center for Midwifery

|