Paying her success forward
Courtney Keener | College of Nursing
Nov 20, 2018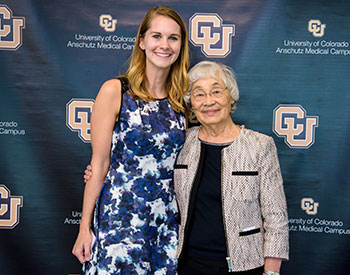 At the age of 91, and with more than five decades' experience in the field of nursing, Chiyoko Furukawa, PhD, MS, RN has demonstrated a profound dedication to her life's work and a commitment to advancing the careers of nursing students. The CU Nursing alumna was the featured guest speaker at the 2018 College of Nursing Scholarship Luncheon held on Sept. 19. The occasion celebrates student scholarship recipients and honors benefactors whose generous gifts support them. This year, more than 80 students received scholarships.
Among students, faculty and benefactors, Dr. Furukawa shared her thoughts about her career, her perseverance as the daughter of immigrants, and what her CU education means to her.
A challenging childhood
Furukawa was born to Japanese parents who came to the United States in the 1920s to raise a family of six – two sons and four daughters. They lived in Venice, Cali., until her mother relocated the family to Brigham City, Utah, to escape xenophobic attitudes and policies during WWII. Her father, however, was unable to follow, as his involvement in creating a Japanese school to assist children in learning English landed him in an internment camp.
Life was difficult for the family. Her mother and siblings – ages three to eighteen – managed to survive by attending school and working summers picking fruits and vegetables for income.
Although she faced incredible challenges during her youth, Furukawa never let them get in the way of her education and plans to pursue a nursing degree. After graduating high school, she completed pre-nursing courses at Weber State University in Ogden, Utah. When she moved with her late husband, Paul, to Boulder, Colo., she took the opportunity to pursue a bachelor's degree in nursing at the then-named CU School of Nursing in the early 1960s.
"I was amazed and inspired to learn about the various scientific advances that impacted the nursing practice," recalled Furukawa, who graduated in 1965. "This new knowledge was lacking in my previous education, and was a challenge to incorporate, yet greatly prepared me to become a future leader in nursing."
A distinguished career
After completing her bachelor's degree, she accepted a position in home health care with the Boulder County Health Department, and began providing nursing services for homebound elders. She would later pursue a master's degree in nursing sciences at the CU School of Nursing in 1972. Following this career choice, she decided to rejoin the academic community. She went on to teach graduate and undergraduate nursing students at Wright State University College of Nursing and Health in Dayton, Ohio, and then at the University of New Mexico College of Nursing.
Throughout her career, Furukawa was aware of the lack of geriatric nursing curriculum and the great need for geriatric nurses, despite vast experience among nurses in caring for the elderly. In response, she became a certified clinical nurse specialist in gerontology, and established a master's degree program in geriatrics at the University Of New Mexico College Of Nursing. There, she also created the Center on Aging, which provided geriatric education to health professionals statewide.
Giving back to CU Nursing
Motivated by a desire to pay her success forward, Dr. Furukawa continues to guide aspiring nurses into careers that care for older adults through the Chiyoko Furukawa, PhD Scholarship Fund at the CU Nursing. "I am grateful for my CU education, which provided the foundation for a satisfying career in nursing," said Furukawa. "It gives me great pleasure to be a small part of students' successful futures as nurses. Hopefully these students will experience the joy of learning and soon a career in which they can help those who need a nurse's care and expertise."
One recipient of her generosity is Marissa Yoder, a nursing student who will graduate in December 2018 with a master's degree in adult gerontology primary care.
"I am honored to have received this scholarship and overwhelmed with gratitude for this generous gift toward my education," said Yoder. "I have been able to spend more time focusing on my future role as a nurse practitioner without worrying about finances. One day I hope to be able to pass along the encouragement that Dr. Furukawa has provided me."