Peruvian Childhood Influences Karagozian
Katherine Phillips | College of Nursing
Dec 17, 2018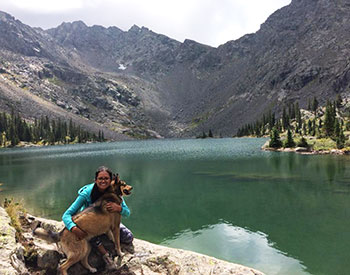 "I have wanted to be a nurse ever since I was a child," said Betzabe Karagozian. Growing up in a small town in Peru, Betzabe Karagozian saw nurses knocking on doors, educating people about vaccines and their health.
According to Karagozian, "My passion grew from watching these nurses knock on doors, educate and vaccinate. I was so excited about what I saw, that when I played with my friends I always wanted to play the nurse who was vaccinating. My desire for helping others grew from watching the nurses and seeing how their dedication improved people's lives." Her enthusiasm drove her to earn a Bachelor's degree in nursing at the National University of San Agustin of Arequipa, Peru.
"It was my dream to continue my education in the nursing program at CU – one of the best and most prestigious universities in the US and the world. I took a risk and bet on myself to give my best to succeed."
With a goal of becoming an ICU nurse and eventually attaining her NP, Karagozian is currently working as a PRN-CAN and studying for the nursing licensing exam, NCLEX.