PhD Student Receives Sigma Theta Tau International Research Grant​​
Katherine Sylvestre | College of Nursing
Mar 20, 2017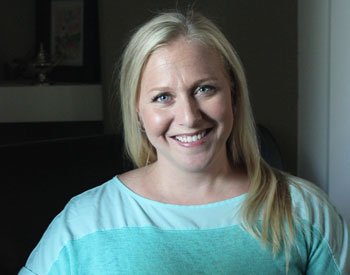 Endowed Pre-Doctoral Fellow in Psychiatric Nursing and PhD student Kristiana Avery, MS, APRN, PMHNP-BC, competed against doctoral students from across the Western region to be awarded $10,000 for the Sigma Theta Tau International/Western Institute of Nursing Research Grant. Her winning project will explore the diagnostic abilities of genetic allele variants in CACNA1C, the gene that encodes for calcium channels.
Avery is an alumna of the CU College of Nursing Psychiatric Mental Health Nurse Practitioner (PMHNP) master's degree program, and she continues to work with PMHNP faculty at CU as a doctoral student.
Currently enrolled in her second year of doctoral studies, Avery plans to graduate with the biobehavioral focus PhD track in December 2018. The Sigma Theta Tau International Research Grant award will fund her will dissertation study: "Calcium Channel Genetic Biomarkers in the Assessment of Mood Disorders."
"This is extremely important research that will help to translate genomic information into clinical practice applications," says Endowed Professor in Psychiatric Nursing Mary Weber, PhD, PMHNP-BC, FAANP, FAAN, who will serve as Avery's major advisor and mentor.
According to Professor Paula Meek, PhD, RN, FAAN, director of the CON's PhD Program, "Her research holds promise to dramatically influence treatment of individual with bipolar disorder by exploring genetic coding and its relationship to the manifestations of the disorder. Kristiana is a remarkable student who works hard to link her dissertation research with the issues that she deals with frequently in her practice at a very foundational level."
Avery says she identified gaps in research during her experience as a PMHNP that left her with questions: "I want to be able to research these unanswered questions and find answers for people suffering. Psychiatric assessments have longed lacked objective testing. I hope this research contributes to the rapidly growing field of neuro-genetics and the translation to clinical use."
As the recipient of a competitive grant, Avery offers advice to fellow graduate nursing students who may consider applying or competing for a grant: "Just put yourself out there. Even if you don't receive an award, the review process and the feedback is invaluable to learning how to research."
She described the shock of receiving the award, her excitement for being able to carry out the research that truly interests her, and her gratitude for those who contribute to the success of her academic efforts. "I would like to thank my family for supporting me through this process," she says. "I also couldn't do it without the support of my committee: Dr. Mary Weber, Dr. Teri Hernandez, Dr. Paul Cook, and Dr. Christopher Schneck."
Categories:
Alumni

Doctor of Philosophy in Nursing (PhD)

Students

|