Wilderness & Ski Patrol Nursing
Trisha Buck | College of Nursing
Dec 3, 2018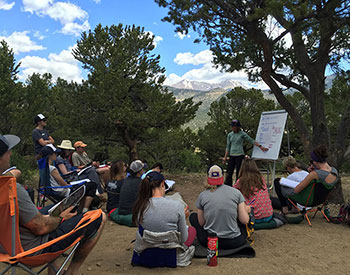 As Colorado anticipates opening day at many of our ski resorts, nurses and volunteer staff prepare for the inevitable injuries that unfortunately will occur. Many injuries are minor, consisting mostly of knee injuries.
Head traumas also account for over 40-deaths on the slopes annually. Such emergency conditions with an increasing number of skiers requires more skilled assistance on the mountain!
In the state of Colorado 70% of all nurse providers are in the front range, leaving a deficit of nurses and healthcare providers in rural Colorado. Rural emergencies need the advance skill set of nurses in order to mitigate tragedies until the patient is intercepted by a hospital, ambulance, or Flight for Life.
A nursing deficit means that the nurses that have moved back to rural areas of the state need a different type of preparation and scope of training. This is especially true in the winter, when urgent care is often needed at the various ski resorts around the state.
University of Colorado College of Nursing Senior Instructor Laura McGladrey, FNP, PMHNP, RN, FAWM has been hosting the Wilderness Medicine courses for the past several years. Laura currently serves on the Monarch Ski areas Ski Patrol. She has also encouraged other nurses to join the patrol as a way to care for patients that may need more intensive care on the mountain.
"The overall goal of the Wilderness Medicine course is to inspire and train nurses who have the desire to work in rural, disaster, or humanitarian healthcare situations, additionally motivating current students to take their skills to the rural setting" said Laura.
The Wilderness Intensive course allows students and nurses to further their breadth of knowledge, learning things you are not formally taught in school such as radio contact, building trauma sleds, and how to keep an airway open for a traumatic brain injury if EMS cannot arrive quickly. This course is held in the mountains twice a year, providing nurses the opportunity to expand their knowledge and inspire them to understand the nursing deficit in rural Colorado in hopes of transitioning their careers. The next course is going to be held in Golden, Colo: February 13th & 17th, 2019.
Nursing in rural areas is crucial for healthcare outcomes to improve, equally so, nurses on the ski patrol help improve outcomes, especially when there are injuries at ski resorts.
Often times, a ski resort could have one or two roads/passes closed which means critical interception of the patient is not always possible. When this happens, it is referred to as being "on an island," Laura explained. "This means the pass has been closed in both directions and Advance Life Support (ALS) cannot reach ski patrol in a timely manner.
The Wilderness Intensive course hopes to increase the nursing population and medical training in rural Colorado. It is a course necessary to improve quality care for patients in rural Colorado. The course is open to the medical community and is attended by an array of students from recent graduates to current students and those who just want more training in order to volunteer at their local ski resort.