3 Questions for Erica Sherer
The CEO of Sheridan Health Services explores why the clinic was recognized as a health care innovator
College of Nursing Marketing | College of Nursing
Jul 26, 2018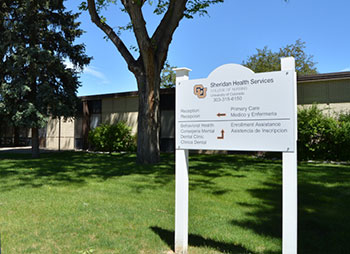 Sheridan Health Services is one of four clinics owned and operated by CU Nursing. Beginning in 1995, Sheridan Health Services has provided primary health care to a wide population residing in southwest Denver for over 20 years.
Recently named a "health care innovator" by Colorado Governor Hickenlooper, Sheridan Health Services was accepted into the Colorado State Innovation Model (SIM) for its dedication to providing whole-person care.
SIM is a federally funded, governor's office initiative that contributes to 25 percent of Colorado's primary health sites and four community mental health centers to deliver whole-person care.
Erica Sherer, DNP, CNM and CEO of Sheridan Health Services explains why Sheridan Health Services is a health care innovator, and how the services it offers benefit the community.
1. What does the designation mean to Sheridan Health Services?
Sheridan Health Services has a 12-year history of providing integrated quality health care to vulnerable populations and we provide a full range of comprehensive, integrated primary care, pharmacy, dental, mental health, substance abuse treatment, and preventive services to adults and children. As a nurse managed clinic, it embraces a person-centered philosophy recognizing a person and their health amidst complex social, behavior, and familial realms. As a federally qualified health center, it combines resources of local communities with federal funds that support neighborhood clinics.
2. How is Sheridan Health Services innovative?
Sheridan Health Services is innovative due to its use of integrated care, telehealth, and substance use disorder treatment.
The integrated care model promotes real-time access to on-site behavior health providers within a primary health care setting. The model removes barriers of care including cost, access, unfamiliarity, stigma, lack of transportation, and excessive wait times.
elehealth promotes long-distance clinical care, and telehealth technologies are designed to improve patient outcomes and access to care. Established patients of the clinic have the option for remote access to behavior health through videoconferencing systems.
Through prior HRSA funding, Sheridan Health Services has significantly expanded on-site substance use disorder treatment services, including medication assisted treatment (MAT) to patients with substance use disorders, using extended release naltrexone (Vivitrol) and Buprenorphine for people with opioid use disorders, and the on-site pharmacy dispenses affordable medications to patients who quality.
3. What role does Sheridan Health Services play in the community?
Sheridan Health Services provides inclusive, integrated healthcare in southwest Denver by fostering innovation, creating optimal health and well-being. As a nurse managed health center, a dual mission exists to generate knowledge; translate research into practice and cultivate the future workforce. Many of the people served by Sheridan Health Services are residents of impoverished, underserved areas. The low-income, largely minority population served often has difficulty utilizing health services. We provide assistance with access to affordable care using bilingual Medicaid applications specialists and culturally inclusive faculty and staff that care about your health and well-being.
Categories:
College of Nursing

|