Alumna recognized as CNS of the Year
Asia Groves | College of Nursing
Apr 20, 2017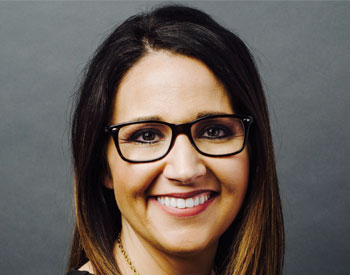 Dr. Amanda Nenaber, DNP, APRN, CCNS, ACNS-BC, was named the 2017 CNS of the Year by the National Association of Clinical Nurse Specialists (NACNS). Nenaber, who earned both her MS and DNP degrees from the CU College of Nursing, is the Transitions of Care Program Director at University of Colorado Hospital (UCH).
The CNS of the Year Award is presented once a year to an NACNS member who demonstrates outstanding professional achievement in the three spheres of CNS influence: excellence in nursing practice, patient and family engagement, and systems improvement. Nenaber was recognized specifically for her project addressing prescription compliance in UCH patients.
The idea for what Nenaber calls the "indication of use initiative" began with a regulatory requirement in the heart failure program that she managed. The requirement stated that providers must ensure heart failure patients left from a hospital stay with every single medication and a reason for why it was prescribed. As she considered how to ensure that the heart failure program met this requirement, she realized that all patients and providers could benefit from indication of use information as well. Hoping to improve knowledge and medication adherence in patients and treatment clarity amongst providers, Nenaber's project expanded the indication of use requirement to apply to every single UCH patient.
Nenaber attributes the success of the project to the collaborative partnership she fostered with Transitions of Care pharmacist, Kate Perica, PharmD, BCPS. "As a CNS, one of our greatest strengths is our ability to identify the need for collaboration," she says. "It is so powerful to be able to drive change, and change at this magnitude across a large health system, through a strong collaborative partnership."
She feels she learned the value of collaboration by participating in 4-H early in her life: "These experiences growing up played a significant role in not only my desire to pursue a career where I can take care of others, but my motivation to continue to make a difference in whatever role I serve."
In addition to her own natural drive, Nenaber is grateful for the motivation that her courses and educators at the CON gave her. CNS Specialty Director and Associate Professor Mary Beth Flynn Makic, PhD, RN, CNS, CCNS, CCRN-K, FAAN, FNAP, was Nenaber's advisor while she pursued the DNP, and they worked together during Makic's tenure as a Research Nurse Scientist at UCH. She expresses her support for Nenaber, saying, "This project is a fabulous example of a CNS-led initiative in which she partnered with key experts … to improve the system for safe patient medication discharge processes."
Makic notes that Nenaber has implemented many improvements in the delivery of care model for heart patients at UCH, but that this project in particular demonstrates her expert skills as a CNS: "I feel that Dr. Nenaber is an exemplary CNS and I'm thrilled she was recognized by the National Association of Clinical Nurse Specialists for her work."
Nenaber says she can hardly find the words to express how honored she feels to be recognized as CNS of the Year. She appreciates the privilege to represent the CNS community and serve as an example of the contributions CNSs make to the nursing profession every day. She promises to "forever work hard to continue to advocate for the CNS role and be a role model to others on the undeniable contributions of a CNS. I have so many amazing memories in my career so far as a CNS and this award gives me even more motivation to get out there and continue to make a difference."