Celebrating the first birth at our new midwifery clinic
Trisha Buck | College of Nursing
Oct 5, 2018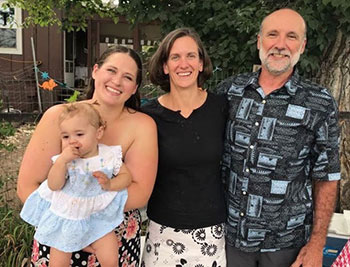 Amy Quinn was the first natural birth at CU College of Nursing's new Longmont clinic. Ana Williams was the nurse-midwife who delivered Amy's little miracle.
Amy's midwifery support assisted her in staying strong to follow her birth plan. "Ana was an amazing part of my delivery as she coached me through the pushing, caught my baby, and handed her to me immediately. It was everything I could have hoped for, and more!" Quinn said.
The Center for Midwifery (CFM) has expanded the practice to five different clinics across the front range. Their model of care is focused on the mother's needs and supports the birthing plan at the mother's discretion; accomplished through research, care and safety.
The convenience of having a birth with our nurse midwives gives mothers custom care, with the safety net of the hospital in case of complications. The clinic-hospital setting sets mother and baby up for a unique and customized birthing experience.
Quinn recalls how supportive Ana was during labor "After about 14 hours or so of un-medicated labor I was exhausted and feeling on the verge of using some pain relief medications, even though I didn't want to use them. She encouraged me to try nitrous oxide for relaxation instead, and to continue to use the bath tub for relief. That was all I ended up needing for the last hours of my labor and delivery."
After such an incredible and supportive birthing experience, Quinn wants all mothers to have the opportunity to feel safe and empowered as they enter into motherhood, no matter where they deliver.
"The love that I felt for my baby in that moment was glorious perfection. It was the culmination of years of desire for being a mother, months of the work of growing a baby and hours of the labor of love of bringing my daughter bedside. It was life changing in every possible way" recalled Quinn.
The care plans which are provided to mothers can be expanded into future family planning, allowing the midwives to foster the family for many years to come.
A year later, Ana attended the first birthday of Amy's daughter. Quinn said, "After Ana helped navigate the most empowering and beautiful experience of bringing my daughter into the world, she has continued to be a light in our lives each time we see her."
Categories:
College of Nursing

|