College of Nursing student gains valuable experience working in Malawi
Katherine Phillips | College of Nursing
Jun 18, 2018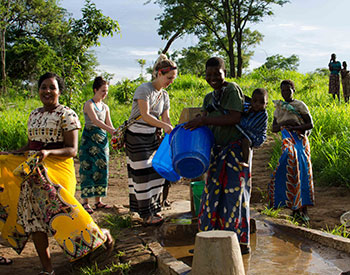 Around the world, many underdeveloped countries suffer health disparities due to lack of access to health care resources, undeveloped infrastructure, as well as poor sanitation, leading to overall poor health.
University of Colorado (CU Nursing) student Kelsey Olinik travelled to Malawi to participate in global health efforts, helping to prevent the transmission of HIV/AIDS, tuberculosis, and malaria, the three leading causes of death in Malawi according to the World Health Organization.
CU Nursing students are given the opportunity to travel to Malawi as part of their masters and doctorate programs, learning how to connect with individual community members to understand the extent of health disparities within the community.
Olink, a student in the Primary Care Pediatric Nurse Practitioner, Doctorate of Nurse Practitioner program, used her experience working in Malawi to further her career in nursing, with an emphasis in global health.
"I spent time traveling to different rural villages to talk to people about health practices and inequities. I also spent time visiting different clinics and tertiary care centers. I loved getting to know the people of Malawi and experiencing the rich culture," said Olinik.
Malawi, a country located in southeast Africa, has a high burden of disease because of HIV/ AIDS, tuberculosis, and malaria. Although Malawi has improved their drinking water sources, these diseases are caused by poor sanitation, with only 10 percent of all sanitation facilities being improved. The high prevalence of these diseases is due to Malawi's population distribution—only 16 percent of the population lives in urban areas, making the country underdeveloped.
Traveling abroad allows students to see first-hand the problems the community faces because of disparities in access to healthcare resources and undeveloped infrastructure. Additionally, it teaches students how to communicate with community members to better understand how they can use their knowledge in nursing to help others.
"The learning opportunities while traveling abroad are endless," said Olinik.
With options to study abroad in countries like Malawi and apply knowledge learned in the classroom to help in global health efforts, nursing students at CU have the opportunity to make a difference in the world while also getting a world-class education.
"I chose CU Nursing because it was so well respected throughout the country" said Olinik.
As global health efforts continue to be made to help countries like Malawi, it is those who work in public health who continue to make a difference in the lives of others, helping to reduce health disparities and promote equity within populations.
Categories:
Global Health Nursing

Students

|