Get to Know Jamie L. Mignano, BSN, MSN, MPH and now PhD
Dana Brandorff | College of Nursing
Dec 13, 2018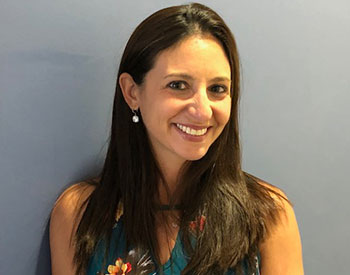 After a family member died of AIDS in the early 1990s, Jamie Mignano "distinctly remembers wanting to work in HIV from that moment forward." At the time, Mignano's parents educated her about the stigma toward marginalized populations, like the LGBTQ community and people living with HIV.
Having been drawn to the field of HIV, Mignano has spent most of her professional career at the Institute of Human Virology at the University of Maryland School of Medicine developing programs to reach people at risk for or living with HIV. She holds a BSN, MSN, and MPH – from Johns Hopkins University – and is graduating with her PhD from CU Nursing. Currently, she is executive director of an HIV and Hepatitis C outreach organization.
"I love working in HIV because it involves intersections between policy, advocacy, community mobilization and direct service to patients. Most people that work in my field are dedicated and passionate about giving a voice to those that do not always have one," said Mignano.
Mignano's PhD dissertation identified community and individual characteristics of persons living with HIV (PLWH) who returned to their HIV provider after a gap in care. "My overall goal is to contribute to decreased incidence of HIV through more widespread identification and treatment of the disease in urban communities disproportionately impacted by HIV," said Mignano.
Mignano chose CU Nursing for her PhD because, "I was motivated by the work that I was doing to be more equipped to be the best version of myself."
Categories:
Doctor of Philosophy in Nursing (PhD)

Students

|