Grand Rounds July 9, 2018: Nurse Family Partnership Nurse Residency Program
Katherine Phillips | College of Nursing
Jul 17, 2018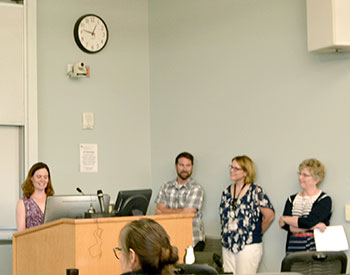 In 2016, CU Nursing launched the Nurse Family Partnership (NFP) Nurse Residency Program to train newly graduated nurses working in the NFP, a maternal-child public health nurse home visiting organization.
The Colorado NFP program offers nurse home visits to young, first time mothers throughout their pregnancy and until their child is 2 years old.
There are many chapters of NFP around the United States, providing health care to low income mothers and their children. In Colorado, the program is available in all of Colorado's 64 counties, with 22 individual sites.
Creating a new program
Piloted by Scott Harpin, PhD, MPH, RN; Glenda Robertson, MA, RN, and Amy Artmann, MSN, CNM, the program is designed to teach and train registered nurses (RNs) working for NFP to gain new professional skills when caring for their clients.
The program was created from a grant that was written by Amy Barton, PhD, RN, FAAN and awarded to the team in 2016 when they then developed the program.
"I was interested in three main outcomes of this program: the workforce, curriculum development, and partnership with Nurse Family Practice," said Barton.
The 12-month program is designed to be collaborative through the online setting. Through a combination of Zoom meetings and Canvas modules, the program allows students to access content remotely regardless of their location. Taught by Scott Harpin and Amy Artmann, the course is open to BSN and MSN graduates who have been out of school for less than 12 months and who are new to the NFP program.
As an online professional development program, it is available to NFP nurses all over the state of Colorado, regardless of distance from Denver. Nurses learn valuable skills such as leadership and decision-making skills that they can translate into their practice working with their patients.
"We wanted to develop a teaching module to integrate into our undergraduate public health nursing program," said Harpin.
The content of the course is designed to be a combination of professional development and clinical content, which gives nurses the skills and knowledge to advance their skills and careers as health care professionals. Glenda Robertson, Instructional Designer for the CU College of Nursing, helped design and create content for the course, along with other team members.
"The program opened my eyes to a great opportunity in health education. Students don't go to the hospital right away especially if public health is of interest and they learn how to learn instead of what to learn. It allows them to transition from student to practitioner," said Robertson.
Finding success
After enrolling and teaching the first cohort of nurse residents in 2016-2017, the success of the program was measured using surveys collected from nurse residents. These surveys collected demographic information of the nurse resident population, asked about the workload of the course, and provided information for process evaluation. Instructors were able to incorporate this information to make changes to the curriculum to include more clinical skills that would be useful for nurses to use when visiting patients. They also conducted "key informant interviews," interviewing nurse residents graduating at month 12 of the program.
From the data, instructors found that the program was successful and enrollment in cohort two has doubled since the program's creation in 2016.
They also found that students improved their skills and knowledge through "parallel processing," which reflects the knowledge new mothers gain working with their nurses throughout the NFP program. Similarly, as nurses provide mothers with new skills, they also grow as new RNs.
The program's creation and success helped the team gain a greater insight into the importance of public health nursing.
"I have a great passion for public health and maternal and child health and it was the formal collaboration with Nurse Family Partnership that teaches students about these two fields," said Artmann.
One nurse resident from the first cohort noted: "This program gives a great opportunity for new NFP nurses who may not normally have the chance to network with others across the state an opportunity to do this. I would also say that it provides a continual support for nurses as they gain knowledge and skill as NFP nurses."
As nurses learn these new skills, they can help contribute to the fostering of long term parenting skills while also growing their career as RNs.
CU Nursing hopes to continue to offer the NFP program to nurses interested in public health nursing, due to its continued success as an effective teaching tool that can be used for professional nursing development.
Categories:
Grand Rounds

|