How the CU College of Nursing Simulation labs prepared me to be a nurse
Trisha Buck | College of Nursing
Nov 12, 2018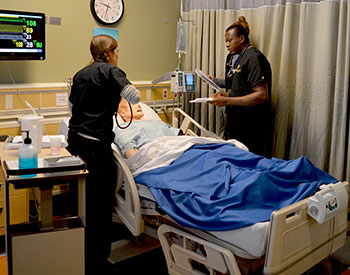 The University of Colorado College of Nursing offers a Simulation Lab (SIM) that exposes students to a death and dying simulation. Experiencing death in the nursing field is unfortunately inevitable, therefore; we help prepare our students for this life event as part of our curriculum. This controlled environment allows students to get simulated exposure, while in a team environment, surrounded by their cohort and instructors.
Kaitlyn Paul recently went through this SIM course. She remembers hearing the alarms go off, listening to the monitors, and seeing the signs of the patient dying. Kaitlyn said, "It won't be my last time hearing it, but the real experience will be less jarring. As a result of this SIM I think I can be more present for the family at that time."
Shelley Howard is graduating this semester, and she is grateful for the death SIM. Howard had been in a small cohort of six other students, who have completed other simulations together. She was with this same group when she completed the death simulation. "The simulation created a community of trust and vulnerability, where they all were able to help each other out. It felt like a team as we moved through the death SIM, taking some of the pressure off."
This simulation reminded Howard of why she was drawn to the field of nursing—caring for patients, from life to death. "It was beneficial to have experienced patient death for the first time in that way," Howard said, "it helped me understand what it might feel like when I experience it in my nursing career. I think I'll be better prepared."
Paul and Howard have both taken so much away from their education at CU, but the death SIM made them both realize the mindset you have to be in when a patient is passing away. In the death SIM students also have to interact with the patient's family. Howard and Paul both agree that after interacting with the family during the death SIM, they realized they are serving a patient who is facing death and that you don't just serve the patient, you also serve the family.
Categories:
College of Nursing

Students

|