Looking for Affordable, Local Healthcare? Try Sheridan Health Services, a CU Nursing clinic
Dana Brandorff | College of Nursing
Dec 21, 2018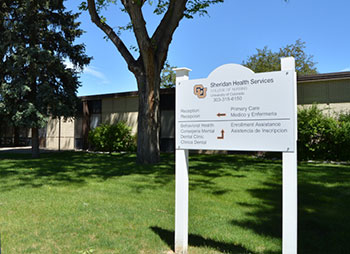 Health care is a big concern for Americans. Having access to care that is affordable and personal is probably one of the top concerns for Baby Boomers and seniors. Many adults crave a simpler form of health care – something where you feel like a person and not another number.
Registered nurse Sally Daigle found that at Sheridan Health Services, a University of Colorado College of Nursing clinic. Initially asked to become a board member four years ago, Daigle was so impressed by the clinic that she became a patient.
As an RN, Daigle is uniquely qualified to assess the clinic and the types of services it provides to the community. She knows what to look for from both medical and patient perspectives. "I've worked in hospitals and now in adult care, so I know what to look for in good care," said Daigle.
From pharmacy to preventive and psychiatric care and dentistry, the clinic provides exceptional care to the community.
"What's appealing to me is that it's close to where I live, it serves the underserved, and it's so involved and invested in the community. You know they care," said Daigle.
According to Daigle, it's not unusual for the staff to spend ½ hour to 1 hour on each patient, taking the time to be thorough. "It's very patient-centered and they treat the whole patient. Paying attention to all the symptoms and not making a snap judgment."
Like many people, Daigle has to buy her own health insurance. There even was a time when she was ineligible for insurance through her employer. Consequently, she had no insurance. "For those who are struggling -- making minimum wage or on a fixed income -- it's a relief to know that Sheridan is there and you'll be seen by an NP or dentist when you need it, regardless," said Daigle.
Sheridan accepts a variety of insurance plans, and will work with patients, adjusting their bills to accommodate their financial situations. In order to receive federal funding, the Center must meet a stringent set of requirements, including providing care on a sliding fee scale based on ability to pay and operating under a governing board that includes patients.
"What really sets Sheridan apart is that you receive quality care and you'll be treated with respect, kindness, and compassion – that's powerful," said Daigle.
Sheridan Health Services, centrally located at 3525 W. Oxford Avenue (close to Fort Logan at Oxford and Federal), offers a variety of services with a focus on wellness and disease prevention. As a federally qualified health center (FQHC), Sheridan receives funds from the HRSA Health Center program to provide high quality, accessible, and affordable care in underserved areas and as such undergoes an operational site visit and review every two years. Sheridan underwent its latest operational visit in November and received an outstanding rating. "If the center is not compliant, it risks losing funding and the care for the community disappears," said CEO Erica Sherer, DNP.
Discover the Sheridan Health Services difference. Schedule a "new patient" appointment today. Call 303-315-6150.
Categories:
Faculty

Sheridan Health Services - Clinic

|