PhD student earns three university scholarships
Asia Groves | College of Nursing
Apr 19, 2017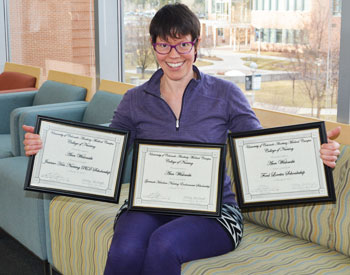 PhD student Ann Wislowski was recently awarded three university scholarships to fund her doctoral education, more than any other student in her cohort. Wislowski received the University of Colorado Gertrude Kahmeyer Hembree Nursing Endowment, the University of Colorado Joanne Duke Hess Nursing PhD Scholarship Endowment, and the University of Colorado Loretta Ford Fellowship. Because she left her job to pursue her nursing PhD full time, the three scholarships will go far in offsetting the cost of her education and easing the strain of her student loans.
Wislowski received her BSN and MSN from the University of Pennsylvania. After years working as a nurse educator, she felt that pursuing a PhD was the next logical step in her own education and in exploring her fascination with high altitude physiology and genomics. She was attracted to the University of Colorado specifically for its hybrid-format nursing PhD program and the privilege to work with Dr. Robert Roach, PhD, at the School of Medicine's Altitude Research Center. "It's also a highly regarded program," she says, "with top-notch faculty."
Once she earns her PhD, Wislowski hopes to establish herself as an independent researcher on the effects of high altitude on the human body: "Specifically, I would like to study the effects of high altitude on women. I hope to continue to teach along with my research, as my students energize me and push me immeasurably." Her goal is to provide improved education on high altitude illnesses to nurses and nursing students in the future.
She was encouraged by an email from Associate Dean of Student Affairs and persity Shane Hoon, EML, MA, encouraging undergraduate and graduate students to apply for scholarships. However, it was her above-and-beyond approach to her applications that made Wislowski so successful. She advises other students applying for scholarships: "Do your homework and tailor your essay to the question at hand or the stated missions of the organization or sponsors. How will receiving this scholarship help you fulfill the goals of the organization you're applying to?"
When applying for the Gertrude Kahmeyer Hembree Endowment, Wislowski took extra time to research Hembree's legacy and her connection to the University to determine how she could honor Hembree with her own career goals. She explains, "Establishing your worthiness as a scholarship recipient starts with understanding the donors' expectations, and then providing evidence that you'll not only meet them, but exceed them." She also suggests that students stay positive and focused in their essays, look everywhere for possible sources of funding, and apply even if they don't think they will be chosen.
Wislowski considers herself very fortunate that the College of Nursing has so many generous donors who make such a variety of scholarship opportunities possible and adds, "I have had an overwhelmingly positive experience so far at CON. Without exception, all the faculty have been approachable and genuinely supportive in guiding my cohort through the PhD program. Thank you all. And I would like to thank Dr. Catherine Jankowski, my advisor, who keeps me out of trouble."
Hoon encourages students to apply to scholarships, saying, "[It] offers and allows them some flexibility with their own studies and research. Many PhD students are under-funded and finances can be a struggle, so any support is generally appreciated."
Categories:
Doctor of Philosophy in Nursing (PhD)

Students

|