PhD student studies organizational change to improve the work environment for nurse leaders
Katherine Phillips | College of Nursing
Jul 13, 2018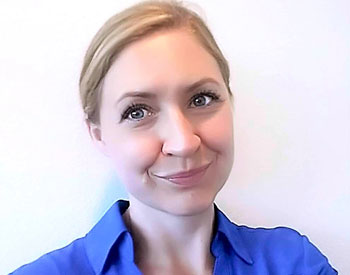 When PhD student Lindsey Tarasenko, MSN, BSN, RN enrolled in the Health Care Systems Research Program at University of Colorado (CU Nursing) two years ago, she was determined to research nursing leadership.
According to Tarasenko, nursing units are often turbulent, as there are different process and procedures that are followed in each unit. When nurse leaders are given the task of project management, they do not have the proper resources to manage their unit, and the organization and their unit can have unintended consequences because they are not trained in project management—their education is in clinical nursing.
Using her training in nursing and knowledge of systems management, Tarasenko conducted a qualitative study that examined relationships between the work environment, nurse middle manager job role, and unintended consequences of healthcare systems framed by organizational change.
"The problem lies at the system level rather than one issue and there are many factors that are amenable to change," said Tarasenko.
Learning how systems communicate
Through her interviews with nurses who were middle managers in different nursing units across the United States, Tarasenko found that the tension of resources, relationships, budget, and changes in processes and procedures are ultimately what impacts the organizational communication in these nursing units.
"I had not researched the population of nurse leaders managing clinical units before and I found that organizational system issues negatively impacted these units," explained Tarasenko.
By understanding the relationships between the environment and nurse management, Tarasenko used her study to analyze how to improve communication and organizational support for nurse leaders.
"I research health care systems because I am able to see the interconnected relationships between systems, and want to know why people behave based on their current environment," said Tarasenko
But improving the communication between these nursing units, or systems, in a hospital is challenging—as enacting change is often a slow process and needs to be well thought out to be effective.
"In hospitals, it is frustrating when change initiatives are not appropriately executed. There is often no centralized communication between nursing units and the nurse managers don't know what is going on in each unit, so there is no collaboration and there can be inconsistent messaging on what is an organizational priority," said Tarasenko.
Putting it all together
Tarasenko was given a grant by CU Anschutz to attend and present her research at the Western Institute of Nursing Conference.
"When presenting my research, I learned to apply my presentation skills and was able to network with others who attended the conference," said Tarasenko.
As she is close to completing her PhD, she said she enjoys being part of the Nursing Health Care Systems Research program because she is able to complete the coursework remotely and online. Additionally, Tarasenko believes her professors and peers have contributed to her experience in the program.
"The professors in the program have experience working in hospitals, are well versed in research, and work in the field helping to grow the next generation of nurses. I also like the relationships between the students in the cohort because we encourage each other," said Tarasenko.
When asked if she would encourage other students to pursue a PhD, Tarasenko said she would recommend CU Nursing because of the curriculum and the experience students gain working with their professors.
"The curriculum is outstanding and applicable to the real-world workforce, and you walk out with experience that you can apply when working in the field," she said.
Within the next year, Tarasenko plans to complete her PhD and move into academia from working in a clinical setting, where she intends to teach health care systems theory and continue to research health care systems management.
Categories:
Doctor of Philosophy in Nursing (PhD)

Students

|