PHMNP Student Selected as Grantee for AACN/NIDA ​​​​​​​Substance Abuse Disorder Grant
Katherine Sylvestre | College of Nursing
Mar 21, 2017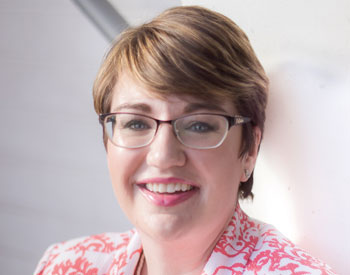 Aimee Techau, a master's degree student in the CU College of Nursing Psychiatric Mental Health Nurse Practitioner (PMHNP) program, has received a $10,000 substance abuse disorder grant from the American Association of Colleges of Nursing and the National Institute of Drug Abuse. She will work with PMHNP faculty to develop opioid modules for curricular advancement in the graduate program at CU, with hopes of wider implementation.
"My project is to develop online modules and an information repository in the prevention and treatment of opioid use disorders for APRN students, faculty, and preceptors," Techau says. "The training focuses on evidenced-based prescribing practices, early identification/referral to treatment (SBIRT), Naloxone use in preventing overdoses, and increasing knowledge of medication assisted treatment (buprenorphine). My goal is to increase prevention and expand access to care for those suffering from opioid use disorder. If successful, we hope to disseminate this training statewide."
Techau says she believes nurses can make a big impact by incorporating buprenorphine as part of their patient care plans, and she wants to use this project to raise awareness of this option: "This is a very timely topic because APRNs were just granted permission to prescribe medication-assisted treatment for Opioid Use Disorder. I am excited to educate and motivate my peers in offering this life-saving treatment."
Endowed Professor in Psychiatric Nursing Mary Weber, PhD, PMHNP-BC, FAANP, FAAN, will serve as Techau's mentor throughout the project's progression. "Dr. Weber is working on several projects at the state and local level to promote the use of buprenorphine and other medication-assisted treatments by nurse practitioners across the state," says Techau. "Her efforts to combat the opioid crisis will help guide my project."
Techau says she has dedicated her career to caring for underserved patient populations, spending many years combating public health issues. "In addition to the PMHNP program, I am also enrolled in CU-UNITE, [a program with] urban underserved course work, and through experiences in both tracts, I have come to understand the devastating consequences of opioid misuse and limited access to care. I am passionate about being a part of the solution."
Weber says, "Aimee has a passion for the underserved and for those with substance use issues. She will be a great advocate for this population."
Endowed Chair and Professor in Psychiatric Nursing Michael Rice, PhD, APRN, FAAN, also points out Techau's academic acumen and potential for success, describing her as "on fire with enthusiasm. She is very energetic and does outstanding work."
Techau is completing her final year of master's coursework and planning to graduate December 2017. "I hope to work in a community mental health setting focusing on substance use issues and plan to offer medication-assisted treatment for opioid use disorder in my practice," she says.
Post-graduation, Techau would like to continue her education by enrolling in the Nursing PhD program at the CU College of Nursing, and she says the AACN/NIDA project also signifies the first step toward her doctorate.
The announcement of Techau's grant award was featured on AACN News Watch in March 2017.
Categories:
Doctor of Philosophy in Nursing (PhD)

Students

|