The Passing of a Legend
Faculty emeritus Vicki Erickson, PhD, leaves a rich legacy
College of Nursing Marketing | College of Nursing
Oct 4, 2018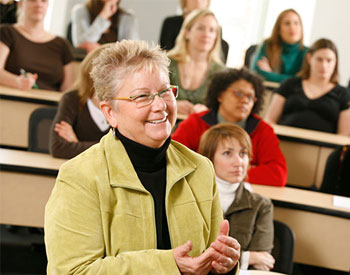 In Memoriam
Vicki Erickson, PhD, Faculty Emeritus
7/30/52 – 9/11/18
Inimitable is a word that describes CU Nursing Faculty Emeritus Vicki Erickson, PhD, who after a valiant fight battling ovarian cancer died Sept. 11, 2018. From her spiked hair to her colorful and crazy socks, Vicki was one-of-a-kind. During a recent celebration of her life, numerous friends and colleagues recalled that "Despite her small stature, she always seemed larger than life."
She joined the University of Colorado College of Nursing in January 1987 with her newly minted PhD from the University of Texas. She was a pediatric nurse practitioner, serving as option coordinator for the Pediatric Nurse Practitioner Program (PNP) from 1990-2007 and Director of the Masters and DNP programs from 2006-2014. She dedicated her life to the care of children and to creating the PNP workforce of the next generation. She demanded a lot from her students, and they responded. U.S. News & World Report rankings in the PNP program rose to #1 and remained there for several years under her guidance.
According to Neva Jarvis, former student and colleague, "Beneath her no-nonsense exterior there was a heart of gold. You always knew she had your back, and she would do anything to help you succeed."
Dr. Erickson practiced what she preached. She was a leader in faculty practice, creating clinics (literally) from small and unusual places with her construction and woodworking skills. She provided care to children in primary care clinics, youth corrections, and women's shelters. She was also part of the team at Sheridan Health Services School Based Health Center from its inception until her retirement in June 2016.
Providing unparalleled faculty leadership for Clinical Track faculty, she mentored countless junior faculty in her many years as CU faculty. Her passion for her work, her students, and her patients were palpable.
Erickson was involved in all aspects of nursing on a state and national level, including as the President of the Colorado Board of Nursing. "She laughed when I told her that all those years she was on the Colorado Board of Nursing, she terrified me. She was such a consummate professional; she held us all to the highest standard," said Elizabeth Pace, chief executive officer for Peer Assistance. It was noted by many colleagues that her role on the Board established an unmatched level of awareness of CU College of Nursing.
Among her many awards and recognitions she was a Distinguished Practitioner and Member of the National Academy of Practice in Nursing, was a Fellow of the American Academy of Nurse Practitioners and was named Pioneer of the Year by the Colorado Rocky Mountain Chapter of the NAPNAP.
Dr. Erickson is survived by a sister, two brothers and her wife, Cheryl Garcia.
Honoring Erickson's impact, the Vicki Erickson, PhD, Memorial Fund was established in her name to support students at the University of Colorado College of Nursing.